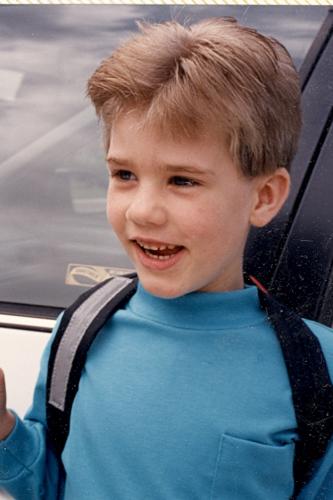 Three Hearts, One Life - By Ryan's Mom
The Early Years
Ryan's first 5 years of life consisted of a healthy balance of childhood delights and boyish mischief. He was the lucky little brother of 5 doting sisters, and never lacked for attention. Life was good.
Then two days after his 5th birthday, he fell ill. Within a few days of being unable to keep any food or drink down, his weight-loss was alarming. A visit to the emergency room ended with the devastating news that he was experiencing congestive heart failure. The diagnosis would be viral cardiomyopathy. He spent 3 weeks in a cardiac intensive care unit where an attempt at giving him back a measure of life quality through drug therapy ultimately failed. On January 5th, 1991 at 5 pm, the UCLA medical center placed him on the transplant list. We knew we were looking for a miracle, because the average wait for a heart was 9 months and he was already living on borrowed time. We got our miracle. Two hours after he made the list, the call came in. I heard the helicpoter take off from the roof of UCLA medical center before I knew that it was a lifeflight on its way to deliver a team of surgeons to a lear jet, which then headed to Canada where a heart was harvested for little Ryan. A 9 year old boy had passed away before Ryan was listed. The boy's noble family consented to the giving of his organs, which helped 21 children. His heart was a perfect match for Ryan.
At the time, we were told that there was no reason to believe that this great gift would not provide our young son a normal life span Still, as they wheeled him through the double doors into the cold O.R., I wondered if I had made a mistake by agreeing to a transplant. This emaciated little boy had flatly refused his permission for the operation -- at least until we thought to explain to him that he would not be awake for the procedure. I knew that life for my young son would never be what it had been - carefree and cozy. The invasive procedures and needles and drugs and side-effects would mean a new "normal" that would last the rest of his short life. He would never again feel "good" in the way that "good" feels to most of us.
Ryan went home on 21 drugs 15 days after his transplant. Only three of them prevented rejection of the transplanted organ. The rest treated the side effects of those 3 powerful drugs. He was immediately faced with needles, biopsies, and angiograms and regular trips to the hospital. We lived on edge, always concerned what these invasive tests would reveal. But he did remarkably well and adjusted to the masks and restrictions and around-the-clock drug routines. He never once refused to take his meds, although he came close when he was introduced to liquid Potassium. That stuff was so nasty. When the nurse explained he had to take it because he was too young for pills, he insisted he was not. So she brought him two huge pills in a pill cup. He downed them so fast no one had a chance to tell him about the water part. He was a determined little boy.
A few months later he was asked to be the poster child for the American Heart Associaton. He spent a day with Magic Johnson at their annual Golf Tournament, and did a TV interview. He made the news several times over before he was 6. He was able to start kindergarten in the fall and life started to feel "normal" again.