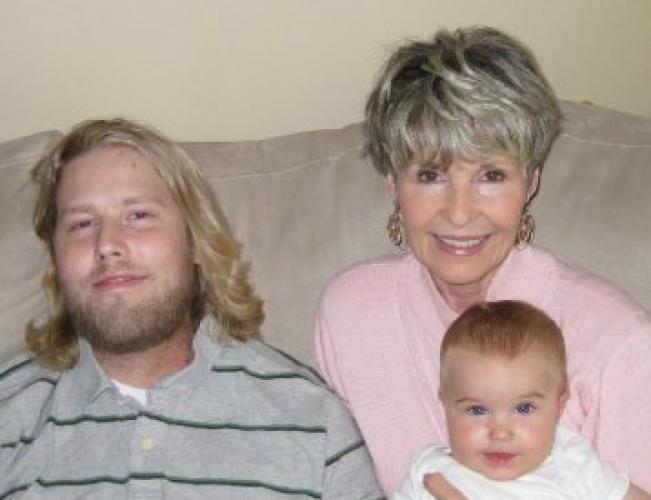 I have found that the best tool for dealing with grief is GRATITUDE, And so, I have been doing a lot of blessing-counting lately. And it has occurred to me that there is gratitude that has gone unexpressed for far too long. I would like my daughter's to stand. I want to thank each of you, Tami, Melody, Suzanne, Wendy, and Marilee for carrying on like little women when you were so young and your mom and little brother were spending weeks and months away from home in hospitals. I may have ignored your needs at times, and in my grief and concern for Ryan, failed to note yours. And yet, I never sensed any resentment -- only support and love for your little brother, and for me. You made many sacrifices I know, and I want you to know today I admire you and appreciate your sacrifices and that I love you dearly, never less than I have loved Ryan. I am so proud of you for the wonderful women you have come to be.
And while my daughters and their father were doing double duty at home, I spent many hours learning and growing with Ryan. We discussed everything from Ninja Turtles to Metallica, to life's meaning. For me it was a profound learning experience.
You see, Ryan didn't get to grow up in that bubble of safety and protection that we like to give our children. In his tender years, he faced more challenges, losses and painful and scary things than most people do in a lifetime. What didn't happen directly to him happened to children all around him. Some of them died, and some of them suffered fates much worse than death. The heartbreak and trauma that these experiences brought to me are hard to explain, and I found that my own faith began to be dismantled. I didn't know how to explain to this innocent child why His loving Father would allow innocent children to suffer unspeakable things, when he had the power to heal them. How could I teach him? How could I expect him to understand? Of all the miracles I have seen through Ryan's life, The greatest miracle is this. It was Ryan who taught me and answered my questions.
When he was 5 and in a very precarious state, he answered my tears with,
"It's okay mom. If I die, Jesus said it will be alright."
When he was 14, he told me on the way to the hospital during an episode of kidney failure that I should not fret so much - that death comes to everyone, and whether his time was now or later, it would be okay.
When he was 18 he was asked to speak at his Seminary Graduation. In the last part of his talk he referred to the 2060 youth who were called to battle to protect the freedom of their people. We know them as the army of Helaman or the 2000 Stripling warriers. Miraculously, not one of these young men lost their lives in the fierce battle that followed. This is the story we all know, but it was no surprise to me that Ryan would have been drawn to a part of the story we don't often talk about.
He quoted, " out of 2060, 200 had fainted because of loss of blood. Not one soul perished, but neither was there one soul among them who had not received many wounds. He concluded his talk that day with the following:
"As the spokesman for the graduating senior class, I testify that we will keep the faith. Though we will suffer many wounds and afflictions in this life, and some of us may even faint from loss fo blood, we will not surrender. We will be as the Army of Helaman and we will stay steadfast to the end."
When he was 23, he made the choice to stop his life supporting medications and be removed from the transplant lists because he was ready to die and give his opportunity for a transplant to someone else who had not already had the gift of two transplants.
He apologized for letting us down, knowing it was not what we wanted and that it would hurt terribly to lose him. Of course his biggest concern was Sara. He advised her to live a full life, to find a good man (who was not sick) to share it with, and he asked that we take care of "his" Sara.
Ryan used to ask me, "Mom, are you pride of me?" and I want him to say to him now,
"Ryan, I am just so very pride of you."
I want to share with you a poem that I started them when Ryan was 5. It was Ryan's serenity, wisdom and very matter-of-fact faith that inspired new verses from time to time. The last 4 lines were written this past week. I am excited to say that I have been able to enjoy brief moments of his influence and personality and that this last verse, especially, came by his inspiration.
When He Stays His Hand
I once believed in God,
The God who heard my childhood prayers and kept watch over me,
And sent His angels forth to lead me out of jeopardy,
Who tenderly worked miracles
To halt the cruel unspeakables;
This God revered and trusted,
Where is He?
There was no grief, no senseless loss that He could not undo.
There was no question of His Hand in everything I knew,
And youthful hopes and dreams fulfilled
Proved circumstance was as he willed.
Oh, God, so kind and present,
Where are you?
How could I keep believing in a God who lingers by
Watching in deaf silence as suffering children cry?
I shed my innocence in search of meaning, truth, and peace,
But found no solace in a world of godless agonies.
And in my darkest moment, I looked to stars on high
Awaiting those unseen, except against the blackest sky –
A glimpse of Boundless Power brought hope, and begged me understand
That God is God because he loves enough to stay His hand.
And then I knew the God I left was never God at all,
But Servant of my own will, bound by human protocol.
Oh, forgive my wounded pride and calm my aching fears,
Let shallowness be swept away through trial, pain, and tears.
Oh, I believe in God!
My God of Love who shares my grief and knows my agony,
And yet in infinite respect, submits this world to me!
With willing heart, I humbly bow,
To every wound He must allow.
Oh God of Man's potential,
Stand by me!
His is the voice that calms when life is ruthless with despair,
His mercy stays the harvest while the grain grows with the tares.
This God I trust has trusted me;
He gave me life then set me free,
And with Divine Restraint, my yoke he shares.
So when I cry, "It isn't fair!" or think to ask, "Why me?"
God, help me to remember there are stars I cannot see.
Refiner's fire, burn and groan,
Until I kneel at His throne
In humble thanks
That He believed in me
Penned 1991-2009 by Rebecca Berg · Inspired by Ryan Close 1985-2009
-------------------------------------------------------------------------------------------------------------------------------------------------------------------------------------------------------------------------------------------------------
This talk was concluded with the audio-video slide presentation,
"I'll Remember You" posted on this site.
However, a violent storm came through as the video began, taking out the power.
The rain and wind continued through the remainder of the service. We traveled in the rain to the burial site.
After the dedication of the grave, the rain stopped and the sun came out.
It all seemed rather symbolic.